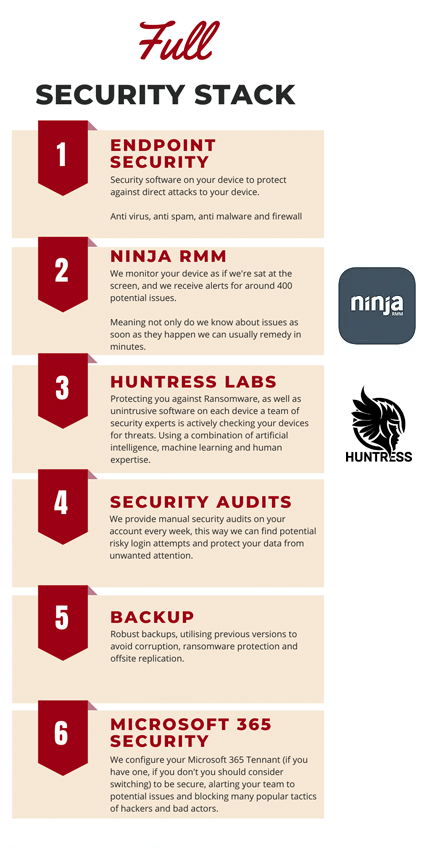 Full-stack security
First things first, getting to the nuts and bolts.
I'm sure you're aware of the need for an "Internet security" or "Anti Virus" package on your devices. But these really are the first step, we offer full-stack security to prevent issues from start to finish.
Managed security as a service means that not only are we taking care of your businesses I.T. day to day operations and making sure things are running efficiently but also keeping a professional and proactive eye on outside threats to your business.
We don't just have industry-leading software in our product stack but we have real human beings proactively monitoring your data and devices.
Weekly checks.
We perform weekly internal checks to make sure there's no risky logins to your Microsoft 365 Tennant, we check user login locations to make sure they are from your location (or there's a good reason for a foreign logins), new rules created for mailboxes etc.
These checks help keep you and your business data safe from fraud.
Microsoft 365.
If your business isn't already using Microsoft 365 for emails we would seriously recommend it, we can manage the migration so you have zero downtime.
The extra security, protection, and auditing capabilities just might protect the future of your business.
Dark Web Monitoring.
Companies offering dark web monitoring is a bit like Snake Oil, the nature of the dark web is that it's hidden and nefarious.
So when we say dark web monitoring let's be clear.
We will monitor your company emails and account credentials in known illicit dark web shops and known data breaches.